What is Major Medical Insurance? When searching for health insurance, all of the important areas of your health should be covered. It's imperative your insurance provides comprehensive coverage. This includes preventive care, emergency room visits, urgent care visits, surgical procedures, and inpatient hospital stays.
Fortunately, that is precisely what major medical insurance delivers. When discussing typical health insurance coverage, usually it's referring to major medical insurance. But how does major medical insurance work and what does it cover? Let's start at the beginning:
Major Medical Insurance Defined
In simple terms, Major Medical health insurance is a comprehensive health insurance plan that complies with the Affordable Care Act regulations for health insurance plans. This insurance covers all the minimum essential benefits and meets the standards of the Affordable Care Act (ACA) for individual and family coverage. Many individuals and families select major medical coverage to ensure all their medical expenses are covered no matter what health concerns might occur throughout the year.
Major medical insurance is a specific type of health insurance plan that will help cover your medical expenses. It often covers preventive care services, urgent care visits, emergency room visits, prescription medications, and other routine medical expenses. However, this type of plan will not cover cosmetic procedures. It also has a longer duration than a short-term insurance plan. The goal of this plan is to minimize out-of-pocket costs for the policyholder.
When people talk about typical health insurance coverage, major medical coverage plans are the type of insurance they're thinking of. These insurance plans are comprehensive, comply with the Affordable Care Act's (ACA) regulations for qualifying health plans, and are designed to minimize out-of-pocket expenses for individuals and families.
For example, your major medical coverage should cover your annual wellness exam. If you catch a cold and have to go to the emergency room due to complications, the major medical plan will also often cover that expense.
What do major medical plans cover?
Major medical insurance plans offer the ten essential benefits: :
hospitalization
outpatient procedures (also called ambulatory care)
preventive care like check ups and immunizations
prescription medication
mental health and addiction counseling
laboratory services
emergency services
pediatric care
maternity and newborn care
These plans aren't only sold through the official state and federal marketplaces. They can be sold off the exchange through licensed private brokers, like Florida Healthcare Insurance! Florida Healthcare Insurance has been providing quality healthcare insurance plans and Medicare supplement plans to South Florida and beyond for over twenty years.
Major Medical Coverage Vs. Non Major Medical Coverage
Major medical insurance is different from other healthcare plans because it is more comprehensive. The terms for this type of health insurance plan are typically longer than a short-term one and provide more extensive coverage than a catastrophic one. For example, a major medical insurance plan will cover preventive care visits, but catastrophic health insurance will not.
Additionally, major medical health insurance plans provide better coverage for chronic health conditions like diabetes and heart disease.
There are other options that are not Major Medical Coverage like Catastrophic Coverage and Short term health insurance. Catastrophic plans differ from major medical health insurance in that they offer a very limited range of benefits. These plans will typically cover expenses associated with a hospitalization, surgery, major illness, or injury.
However, they will not cover preventive care or minor health issues. The premiums for these plans are far lower than the premiums for major medical health insurance since they offer less coverage.
Short-term health insurance is another option that allows people to buy coverage. This health insurance provides coverage for a limited period, usually between 30 and 90 days, but can provide coverage for as long as 36 months (3 years).
Short-Term insurance is a good idea for healthy individuals due to the fact that short-term premiums are lower cost if you are between plans. Or if you've missed the open enrollment deadline (ding! ding! ding!), a plan like this is perfect for you.
Where Can You Get Major Medical Coverage?
Major medical health insurance can be purchased through official health insurance exchanges and through licensed brokers like us, Florida Healthcare Insurance. The most common time to buy Major Medical coverage is during the open enrollment period. You can also qualify for what is known as a special enrollment period if you have a qualifying event. These include:
changing jobs
getting married or divorced
having a child
Income change
If you wish to buy major medical health coverage at other times of year, we can help you with that! Our agents are able to help you enroll in a policy not offered on the exchange. We may even be able to help you qualify for subsidies on your monthly premium! Since these subsidies can have a major impact on the monthly premium cost, the monetary difference between on and off-exchange plans can be significant, even if the coverage is similar.
Quick tip.. Most employer sponsored health insurance will offer higher coverage than a major medical plan.
How Much Does Major Medical Insurance Cost?
Many factors will affect the cost of your health coverage, including the type of plan you enroll in, the services you need and how often, and whether you take prescription drugs.
When you're calculating the cost of major medical insurance, it's important to look beyond just plan premiums, or the monthly amount you'll pay for coverage. Oftentimes, major medical plans with low premiums may be offset by other costs, such as higher deductibles or cost sharing, or a higher maximum out-of-pocket limit.
Our licensed expert agents are able to compare costs like premiums, deductibles, copayments, and more for a wide selection of individual and family plans.
The average health insurance cost per month is $928 for a Bronze ACA plan. The average monthly costs increase to $1,217 for a Silver plan and $1,336 for a Gold plan. Those averages don't consider premium tax credits and subsidies that can reduce costs for an ACA plan based on household income.
Health insurance companies set rates for ACA plans by age, plan type, metal tier and tobacco use. They can't use gender or where you live.
Average cost of health insurance by age
Here's a look at the average cost of health insurance by age: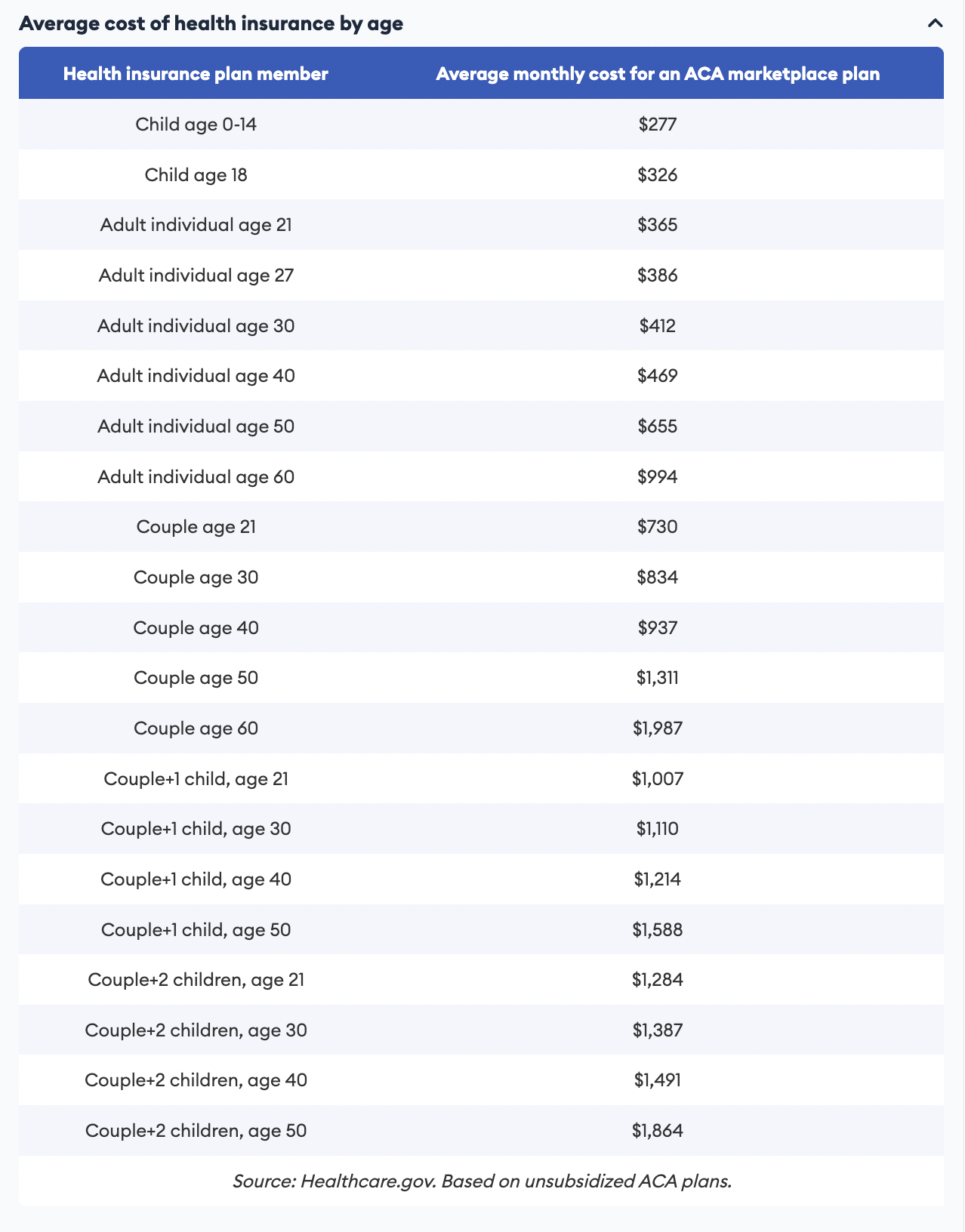 Average cost of health insurance by type
Here's a look at the average cost of health insurance by type: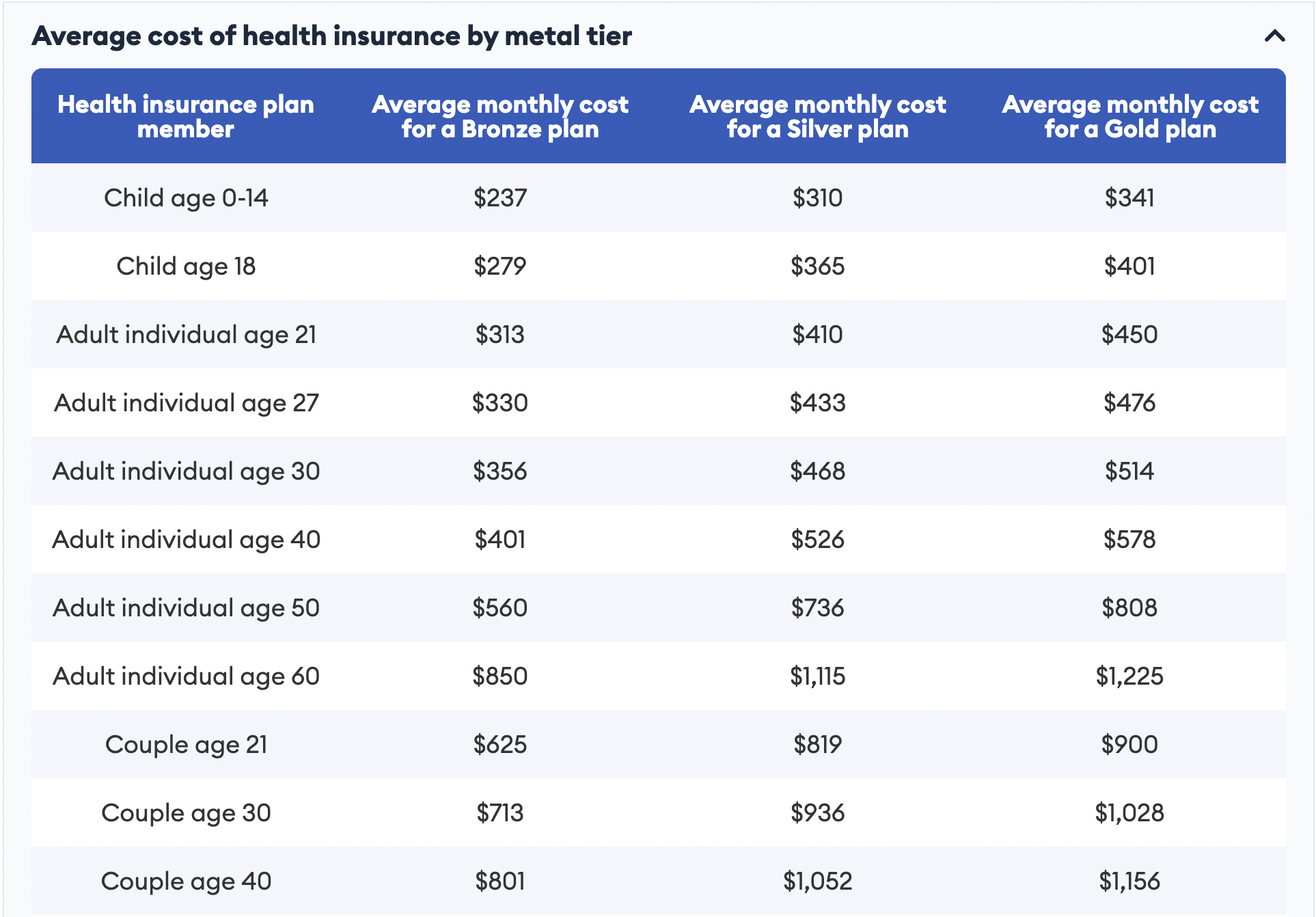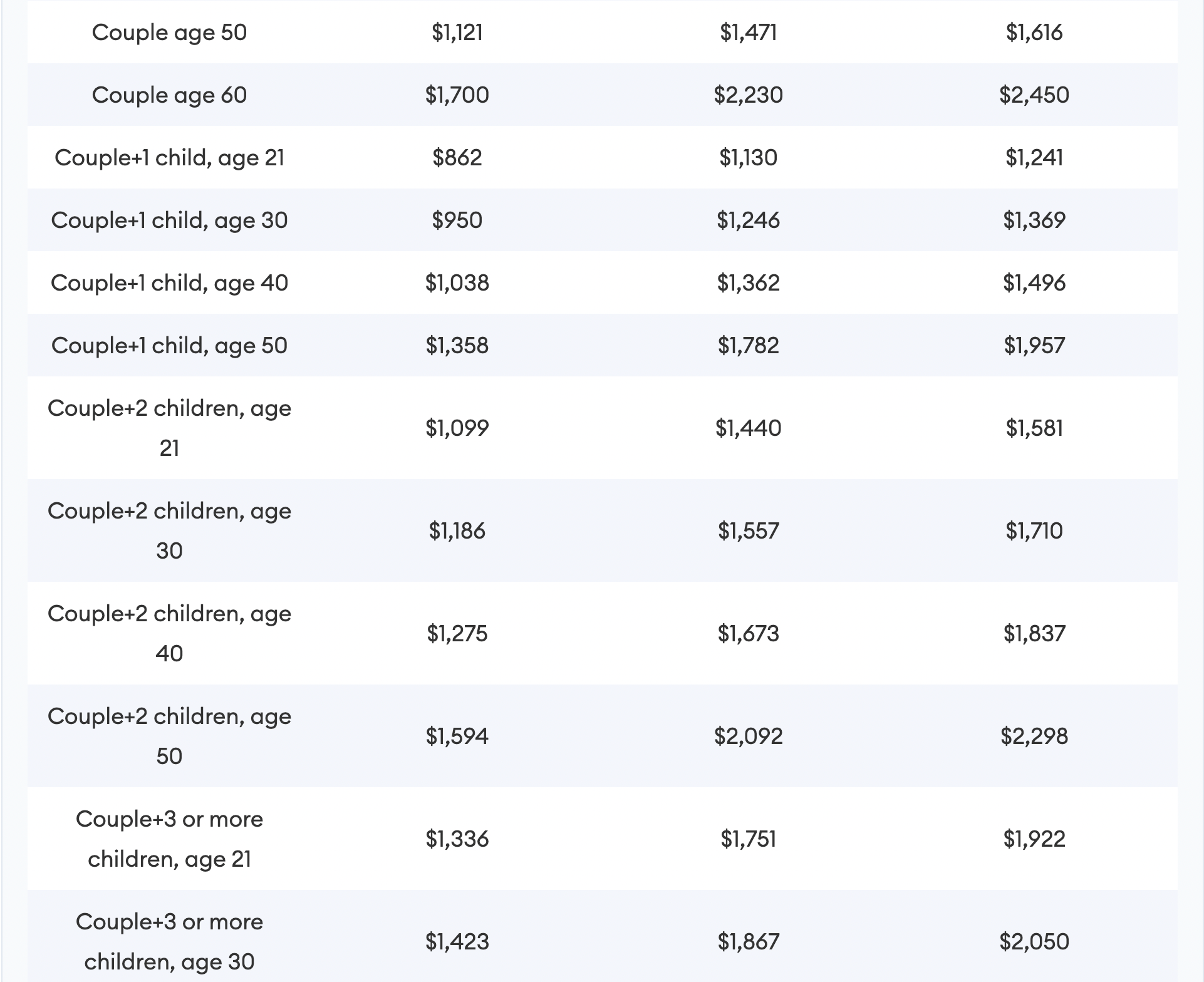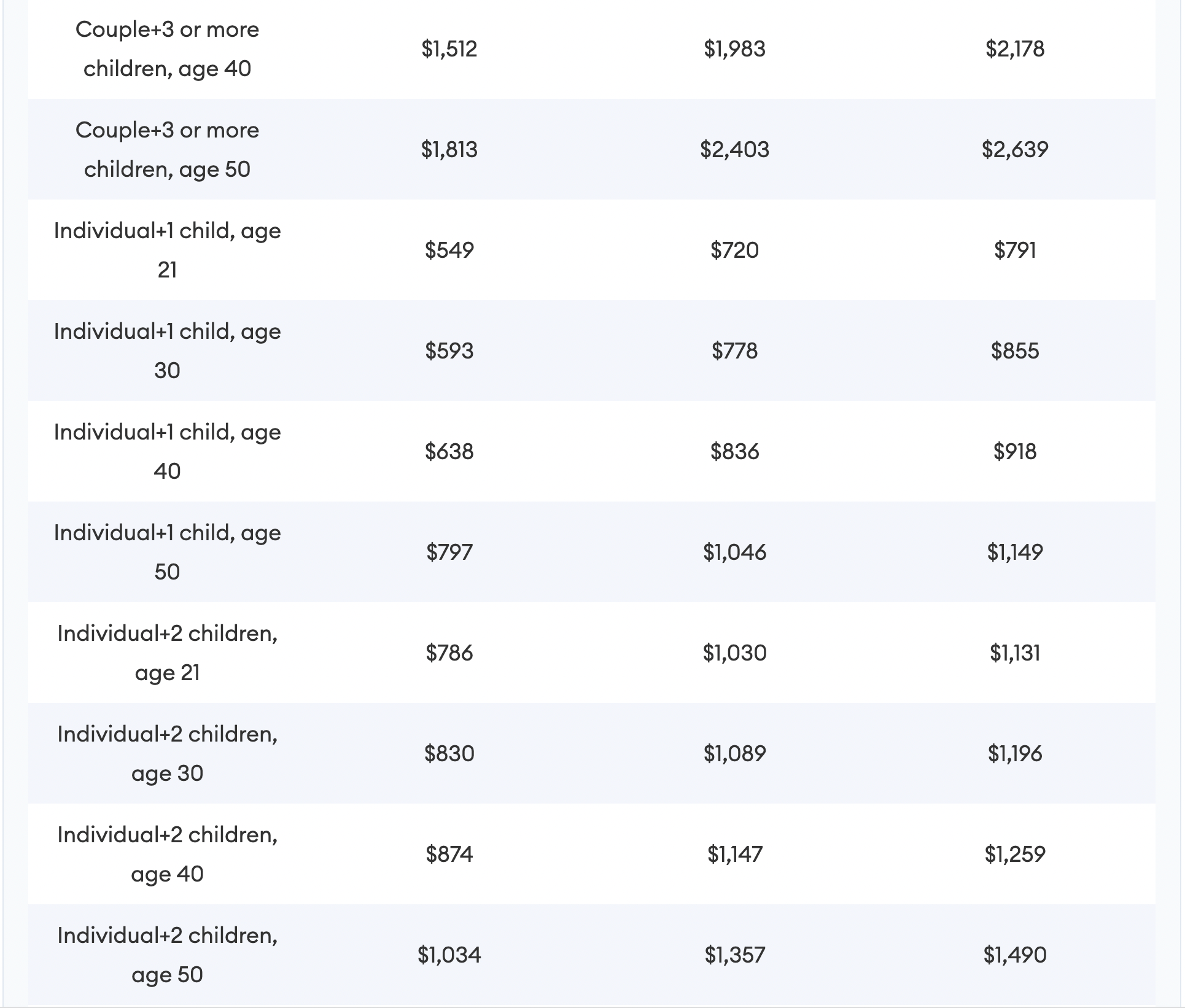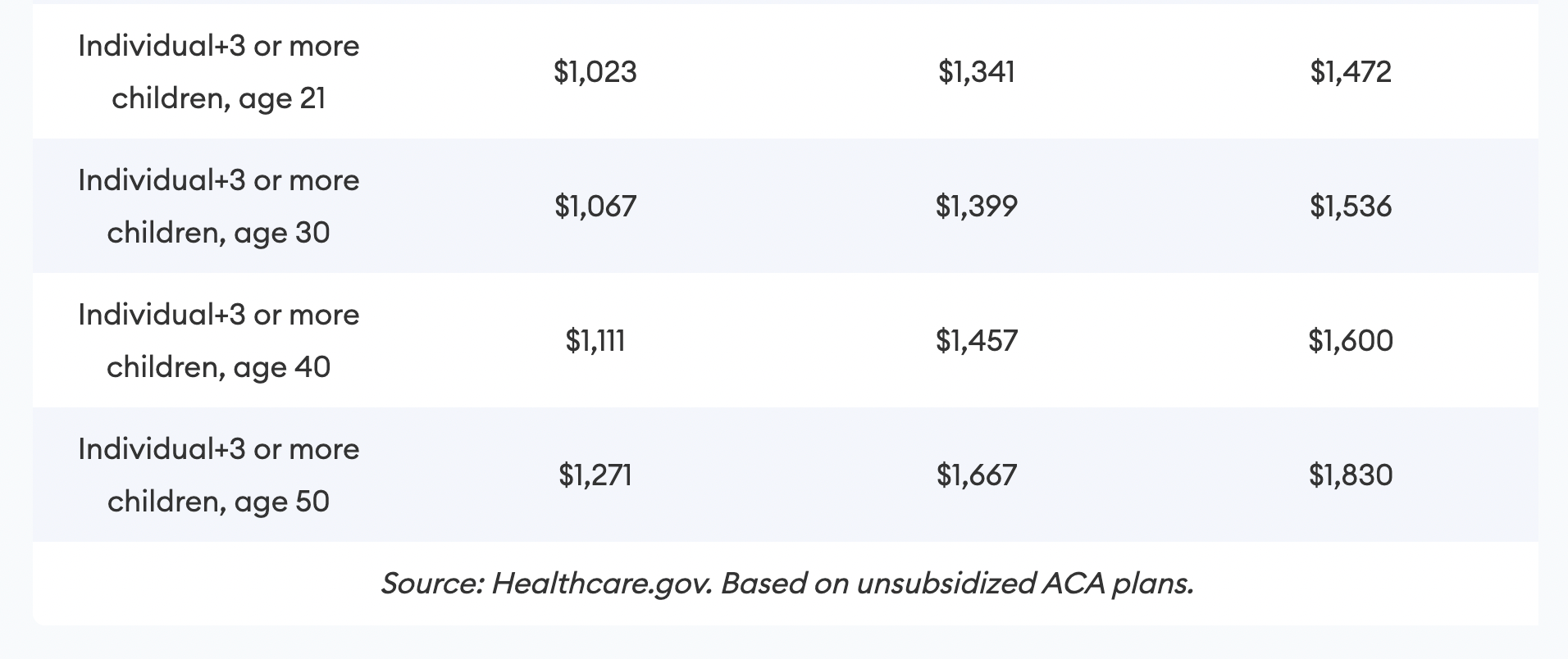 Major Medical Health Insurance vs. Short-Term Health Insurance
Major medical insurance provides more comprehensive coverage and better consumer protections than short-term insurance. Remember a short-term plan does not offer essential health benefits. Two benefits of short-term insurance are that it's much cheaper than major medical insurance, and you can buy it anytime during the year.
Following is a breakdown of the two types of coverage:
Major medical coverage vs. short-term insurance

Major Medical Coverage vs. Hospital Indemnity Insurance
Hospital indemnity insurance is not a form of standard health insurance. Rather,  it's intended to supplement your primary insurance policy.
While major medical insurance covers most types of health care services and procedures, hospital indemnity insurance pays you if you're in the hospital for an extended period. It doesn't offer coverage for other types of medical services.
Following is a breakdown of the two types of coverage.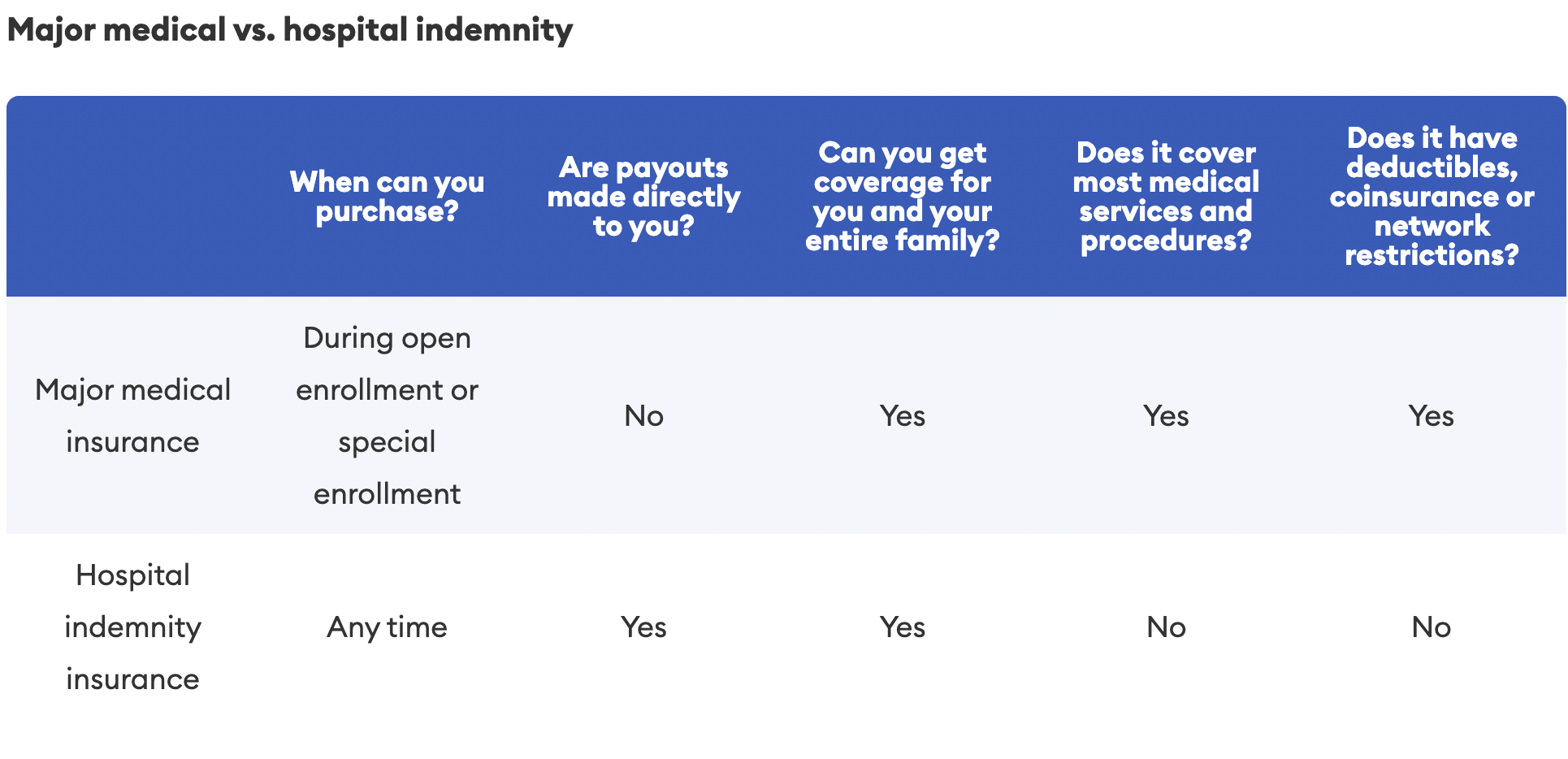 Ready to enroll in Major Medical Coverage?
We know purchasing Major Medical coverage is a "major" investment for you and your family. The great news is Florida Healthcare Insurance is here to help you find the best plan that meets your needs!
As a trusted and well-established company, Florida Health Insurance has the experience to serve your health coverage needs. We provide comprehensive, personalized services to obtain the best health insurance plan for your needs. Finding your perfect match in health insurance coverage is always our priority.
Leave the legwork of finding health insurance to us. It's what we do well!
For more information or to speak with one of our expert agents, please call Evan Tunis at (954) 282-6891 or email at estinsurance@gmail.com.
More Information: