Open Enrollment for Health Insurance is Almost Here!
I'm sure you've seen the ads and commercials — open enrollment is almost here! Dun dun dun…but what exactly does it mean? For most, it gives the sense of urgency — is my plan working for me? Should I make any changes? What exactly is it?
This week I want to discuss all things Open Enrollment.
What Exactly Is Open Enrollment?
Great Question. Open Enrollment is a time period when employees of companies and organizations are able to make changes to their elected benefits like health insurance. The time period depends on how you get insurance. Medicare recipients have between October 15th and December 7th, 2020 to make any changes to coverage beginning January 1st, 2021. Individuals who receive health insurance through the Affordable Care Act (ACA) have between November 1st and December 15th, 2020 to make changes. Lastly, those who receive insurance through their employer may have different dates on Open Enrollment; it varies for each company and usually the company makes the decision.
So What Do I Do During Open Enrollment?
Well, good news is that our agents will always notify you beforehand of Open Enrollment and remind you as the time approaches (ahem, ahem). We recommend reviewing your current policy and checking in with your other family members to see if you had any changes to your health in the past year. We will let you know if you current plan is changing and will ask you about doctors and specialists you'd like to keep should we need to shop for a new policy for you. Sometimes, your doctor may leave the network or your drugs won't be on the list of covered medications — which is where we step in. We will find a plan that better suits your needs and be sure to make the necessary changes during the open enrollment period for your upcoming coverage.
What if I have Medicare?
You'll have between October 15th and December 7th, 2020 to make any changes to your plan for coverage starting January 1st, 2021. You've probably heard from our agents — chances are you've already spoken to our agents and staff regarding your plans and whether you need to make any changes.
I want to make changes to my Health Insurance plan, what do I do next?
That's easy. Reach out to us and we'll handle the rest. It's our job to make sure any transition of coverage goes as smoothly as possible. We've got you covered!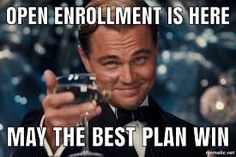 If you have any questions, please reach out to me or any one of our agents and we are happy to help!